Collaborations
Paintings in this series are collaborations with artists and artworks from the 16th-20th centuries.

Reflection on coastal craft on a choppy sea
Original painting by George Morland
Collaboration 2019 and c1790


Fireworks on Ethel Deller holding tribunal letter
Original painting by Lawrence Deller
Collaboration 2019 and 1916



Fireworks on two landscapes
Original English School oil painting
Collaboration (study) 2019 and 1870



Reflection study
Original English School oil painting
Collaboration (study) 2015 and c1870




Reflection on Jane Camp
Originally painted by Alexander Melville
Collaboration 2018 and 1877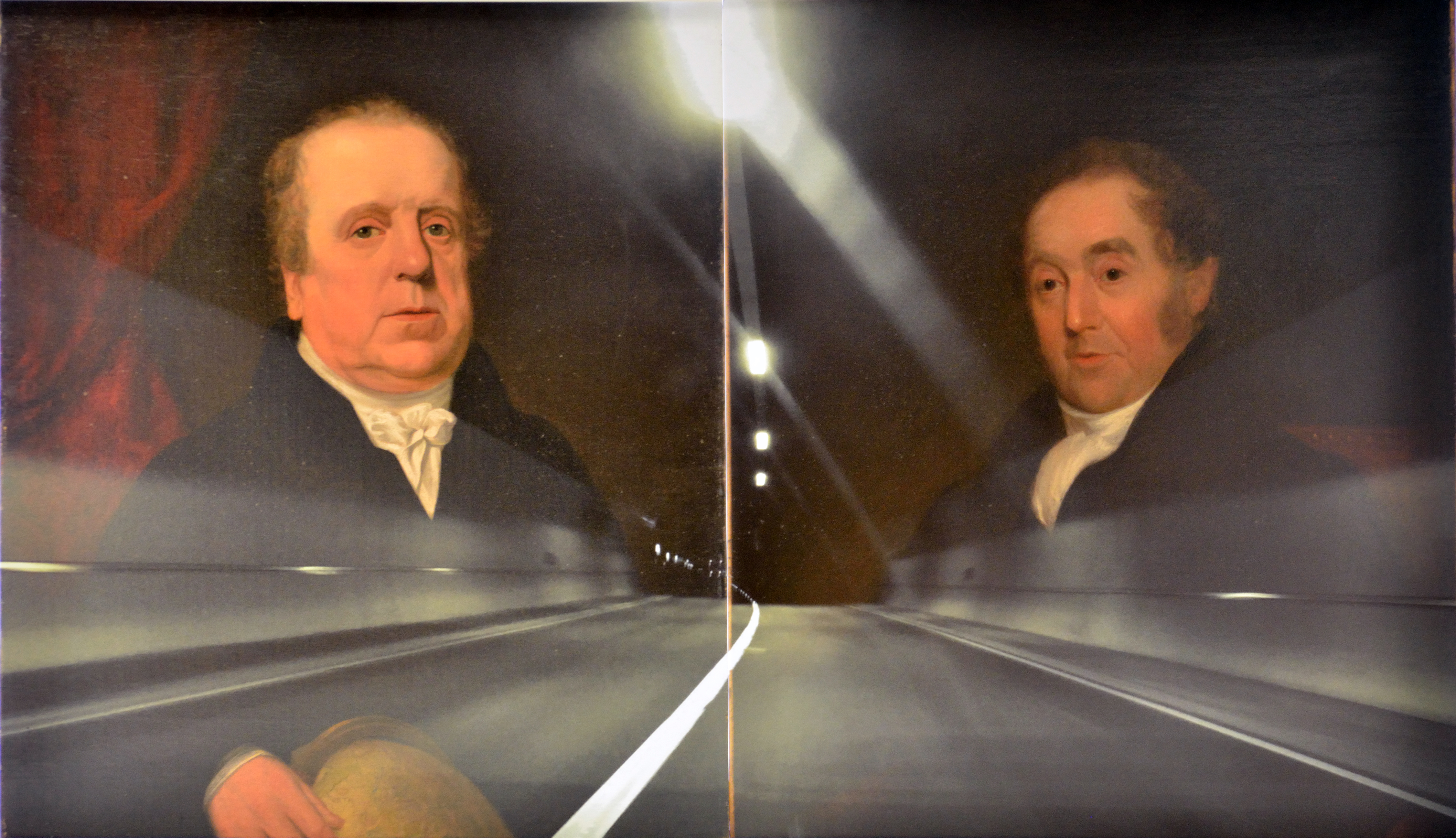 Reflection on John Button 1761-1825 and John Elliot 1769-1835
Original painting by Thomas Harper
Collaboration 2017 and c1820


Reflection on Joseph Seal of Foleshill Heath, Coventry
Originally painted by David Gee
Collaboration 2018 and 1845


Cultural Institute Paintings
Google's Cultural Institute project was launched in 2011. Backpack 'streetview' cameras were used to document arts institutions allowing people to experience a 'virtual tour' online from anywhere in the world. The project's algorithms and masking software made profound changes to many, often iconic artworks: blurring some out completely, warping the shape and proportions of paintings, including reflections on glazed paintings and superimposing streetview directional arrows. Without knowing what these artworks are 'supposed' to look like users of the software might assume that these modifications were present on the original artworks. These modified works would then become their 'original'. These culturally institutionalised online versions form the source for this physical 'offline' body of work produced in oil on canvas.

Source image: Les Demoiselles d'Avignon
Pablo Picasso
Institution: MOMA New York

Physical painting: New Demoiselles

Oil on canvas, 2016
120.65 x 120.65 cm
Source image: Orange Car Crash, (5 Deaths 11 Times in Orange)
Andy Warhol
Institution: Galleria Civica d'Arte Moderna e Contemporanea

Physical painting: New Orange Car Crash (5 Deaths 11 Times in Orange)
Oil on canvas, 2016
118.11 x 102.87 cm
Source image: The Lady of Shalott
John William Waterhouse
Institution: Tate Britain
Source image:
Physical painting: New Lady of Shalott
Oil on canvas, 2016
120.65 x 76.2 cm
Paul Stephenson
Portfolio
Reflection on coastal craft on a choppy sea
Original painting by George Morland
Forced collaboration 2019 and c1790


Reflections on (l to r) a Gentleman, James Carlile & Samual Cocker of Hathersage, Derbyshire
Original paintings by Richard Ramsey Reinagle, Amos Gusuille RA & Henry Perronet Briggs
Forced Collaboration 2019 and 1820, 1830 & c1820


Reflection on Thomas Beecham, Paris
Unique vintage silver gelatin photograph by Man Ray
Forced Collaboration 2020 and 1915


Fireworks on Ethel Deller holding tribunal letter
Original painting by Lawrence Deller
Forced collaboration 2019 and 1916



Fireworks on two landscapes (diptych)
Original English School oil paintings
Forced collaboration (study) 2019 and 1870



Reflection on Mr & Mrs Thomas Walker, Camden Town (diptych)
Original painting by William Allsworth
Forced Collaboration 2016 and 1855


Reflection study
Original English School oil painting
Forced collaboration (study) 2015 and c1870




Reflection on Jane Camp
Originally painted by Alexander Melville
Forced Collaboration 2018 and 1877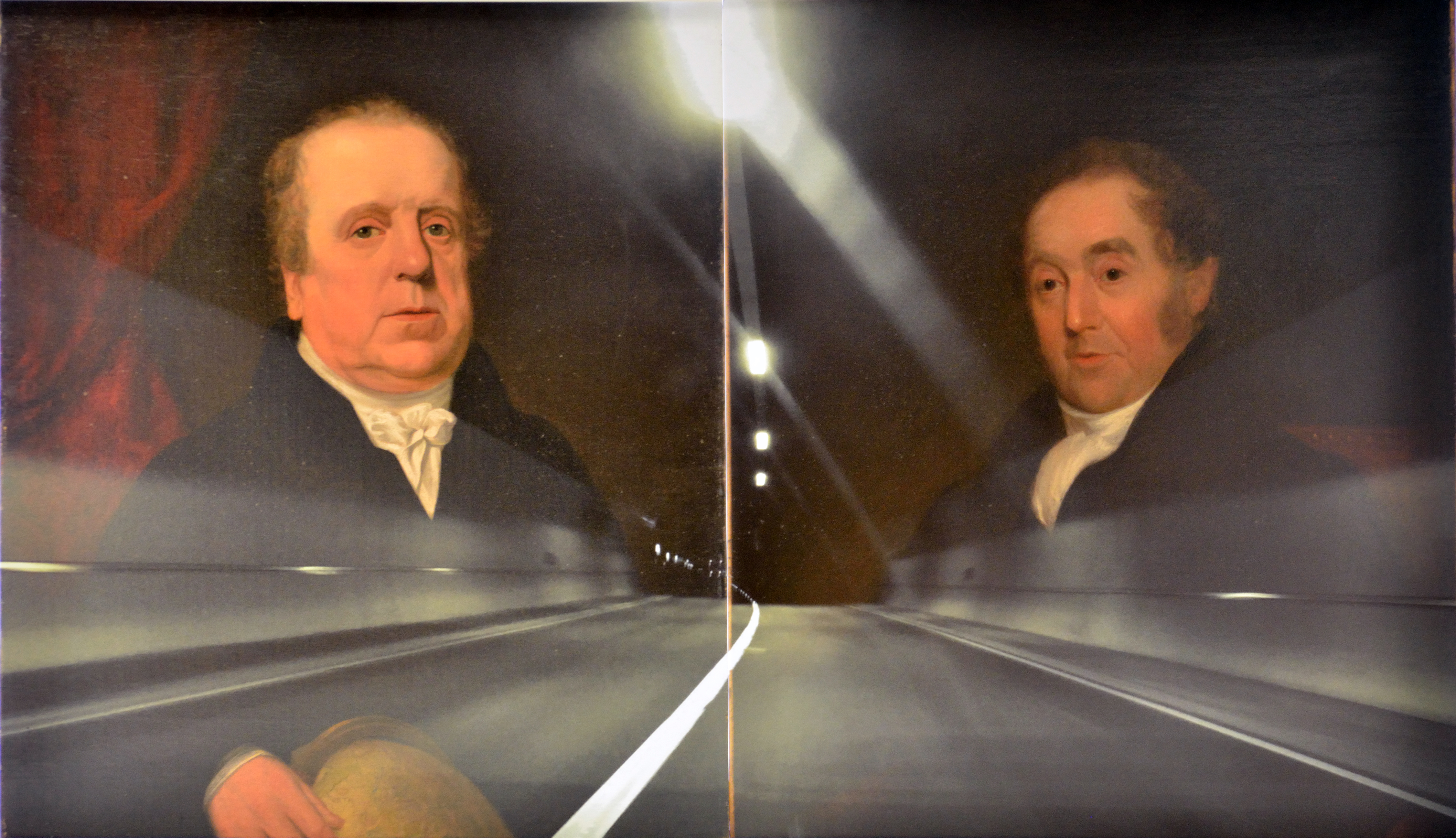 Reflection on John Button 1761-1825 and John Elliot 1769-1835 (diptych)
Original painting by Thomas Harper
Forced Collaboration 2017 and c1820